Vallum's Halo Manager solution is built on a unique modular and decentralized architecture that significantly reduces complexity and expense, and increases flexibility and scalability. Halo Manager's architecture eliminates the need for a cumbersome and complex central server install that is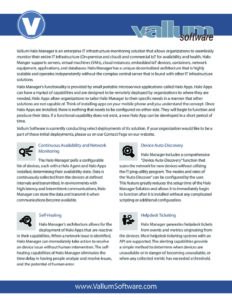 the cornerstone of other IT Infrastructure monitoring solutions on the market today.
Vallum's architectural approach is highly flexible and provides organizations with the capability to tailor the Halo Manager solution to their specific needs with specialized microservice applications called Halo Apps. These state-of-the-art applications are designed to add functionality to the Halo Manager solution in a modular manner without updating the entire solution or restarting it. Please visit the Halo Apps page here to learn more about Halo Apps. You can also click on our datasheet to the right. In the near future, a Halo App Store will be established where existing customers can search and download current Halo Apps.
What is at the center of Vallum's Architecture…
Vallum's architecture is built on a software agent called the Vallum Halo Agent. The Halo Agent is the installed component on the endpoint device where Halo Apps are installed to it.