Vallum Halo Manager is an IT infrastructure monitoring solution designed to allow organizations to seamlessly monitor their entire IT infrastructure (On-Premise and cloud) and commercial IoT infrastructure for availability and health. Halo Manager supports servers, virtual machines (VMs), cloud instances, containers, network equipment, commercial IoT devices, applications, and databases. Halo Manager has a unique decentralized architecture that eliminates the complex central server install that is typical of other IT infrastructure solutions. Halo Manager is designed to be specifically tailored to an organization's needs through the installation of small specialized microservice applications called Halo Apps. Halo Apps are portable and add additional functionality to the Halo Agent in a modular manner. Halo Apps are remotely installed to Halo Agents on the device and operate entirely on the device.
Some of the current Halo Apps provide the following general capabilities that are needed across all IT assets and commercial IoT devices:
Device availability
CPU and Memory load
Disk capacity
System processes and services availability
Network traffic
Additional Halo Apps are device-specific and provide the following capabilities:
Halo Camera App for surveillance cameras. This Halo App provides metrics that are specific to surveillance cameras. It can automatically restart video processes and reboot cameras to ensure their operation.
Halo Blur Detection App for surveillance cameras. Identifying poor video quality on surveillance cameras without seeing it is a pervasive problem. The Blur Detection App provides a metric on the real-time video quality of the surveillance camera entirely on camera. No external video transmission and processing are required.
Halo SD Card Health App for devices utilizing SD Cards. SD Cards do not last forever. Determining when they need to be replaced to prevent video recording disruption is a problem. The SD Card App provides a health metric on Western Digital commercial SD Cards in order to generate an alert on when to replace them.
Additional Halo Apps are in development that provides AI computer vision capabilities that operate entirely on a commercial surveillance camera within a Halo App. This provides the benefit of computer vision capabilities without the burden, latency, and expense of transmitting the video outside of the camera for processing. Computer vision events are converted into metadata and made actionable for other devices. This capability can enable the deployment of cameras where there is insufficient bandwidth for viewing the video feed. Think of a camera in a remote location where there is only bandwidth for still photos or textual alerts.
You can click here to view a typical Vallum Halo Manager Architecture diagram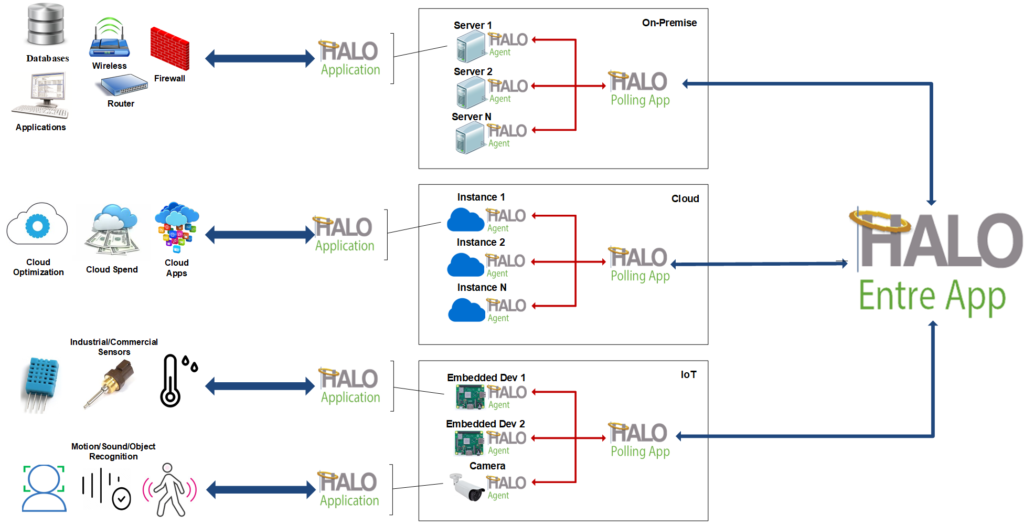 Once Halo Manager is installed, the user can then begin easily customizing the solution by downloading and installing Halo Apps where they need the functionality, tailoring the solution to their specific requirements. Think of installing apps on your mobile phone and you understand the concept. Halo Apps are remotely installed to the Halo Agent on the device whatever it is and wherever it is located. Please visit our Halo Apps Page to learn more about Halo Apps. In the near future a Halo App Store will be established where existing customers can search and download current Halo Apps.