Organizations across all industries are engaged in an unprecedented automation effort of their processes and equipment in an effort to achieve improvements in safety, efficiency, and profitability. Automation requires real-time data to be effective. In order to capture this data, organizations are deploying commercial IoT devices (embedded devices) throughout their infrastructure in staggering numbers that number into the billions.
Commercial IoT devices are designed by hardware device manufacturers. The devices are narrowly designed for a specific task such as collecting data from a piece of equipment or a sensor. The manufacturers do not design capabilities that are outside the objective of the device. Capabilities such as operational monitoring of the device itself, data analytics, or those related to security are not included with the device out-of-the-box.
Vallum Software's solution, Halo Manager, installs directly to commercial IoT devices providing availability, device health monitoring, and proactive capabilities to ensure that devices remain operational. Halo Manager supports IoT devices such as surveillance cameras, Raspberry Pi, Arduino, and those in industrial, manufacturing, agriculture,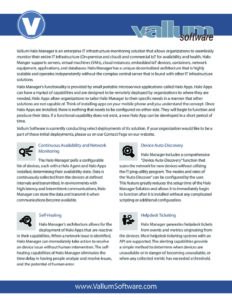 and 3D-Printing. Many of these devices are critical to operations and therefore need to be operationally monitored. Waiting for a device to fail is not an option. Halo Manager monitors the availability and health of these devices, augments their data, and provides on-device data analytics. These capabilities provide operational visibility and data flexibility to these devices, allowing their data to be securely joined with traditional IT. Additional capabilities can introduce edge computing and AI/ML capabilities where they are needed.
Halo Manager is modular in its architecture. The functional capabilities of the solution are delivered in the form of small portable microservice applications called Halo Apps. Halo Apps allow organizations to select and deploy the capabilities they need and where they need them. Halo Manager provides organizations with real-time monitoring and management of their entire IT infrastructure.
Do you want to learn more about our solution? Visit Halo Manager solution page here. You can also click on our datasheet to the right.
Are you an IoT device manufacturer that wants to embed the Halo Manager Agent in your firmware? Please reach out to us on the contact page.