94 percent of enterprises use the cloud and 92 percent have a multi-cloud strategy in place or underway. 82 percent of large enterprises have adopted a hybrid cloud infrastructure that combines on-premise data centers. IT environments are increasingly blended across multiple cloud vendors, on-premises datacenters, and now commercial IoT. Monitoring these diverse environments is a challenge.
IT infrastructure monitoring solutions on the market today are siloed and inflexible. Some are designed to monitor on-premise data centers, some cloud environments with others narrowly focused on databases or specific applications. Organizations are forced to maintain multiple tools to monitor their IT infrastructure, and these tools do not talk to each other which creates issues of their own. Cloud engineers are forced to visit multiple tools in order to analyze an IT event and still may not obtain a clear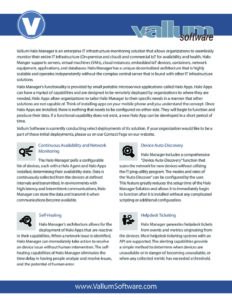 view of what is occurring.
Vallum Software's solution, Halo Manager, was designed from the beginning to seamlessly operate on-premise, on the cloud, and on commercial IoT devices. Halo Manager has a unique modular architecture where the functional capabilities are delivered through small portable microservice applications called Halo Apps. Halo Apps allow organizations to select and deploy the functionality they need and where they need it. Halo Manager eliminates the need for the complex array of tools and solutions that organizations currently maintain. Halo Manager provides organizations with real-time monitoring and management of their entire IT infrastructure.
Do you want to learn more about our solution? Visit Halo Manager solution page here. You can also click on our datasheet to the right.